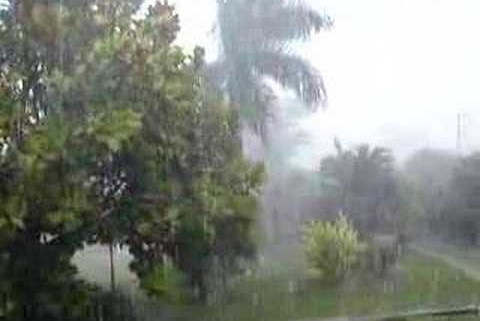 What I learned from tropical storm Isaias
Storms are hard. There is the fear of not knowing how bad it will be or how to prepare adequately. There is also fear watching the storm with the trees blowing in the wind and seeing branches coming down and hoping nothing will damage your house or property. I have had several trees come down in different storms and damage my house and deck. And then there is the aftermath of the storm in terms of cleaning up the debris, getting all of the trees that are down cut up and off the property and finally getting any lost power, internet and cable back up.
During Isaias, I was home watching the storm and went downstairs to where I felt it safest when the eye of the storm hit about 2 PM. I heard branches come down and later found two down trees on the property where I am renting, one making a nice sized hole in the gravel driveway. We lost power, cable and internet. I was incredibly lucky to have a partial generator which kept my refrigerator going, some lights on as well as microwave and toaster oven. I made 3 nights of prepared foods the night before the storm as a precautionary step. We had extra batteries for 3 lanterns and enough propane for the generator. I felt ready. We were lucky to get our power restored in 2 days. It took over 2 weeks however, to get our internet and cable back.
Here is what I learned from the experience:
Having no cable TV was an inconvenience as I like relaxing with Netflix at night, but I enjoyed playing cards, doing cross word puzzles, reading, doing yoga stretches and drawing in my mandala coloring book. I also just closed my eyes and did nothing for just a few minutes which I seldom do which was very relaxing and helped me to sleep better.
For the first week I stayed positive and upbeat, grateful that I had my power restored, had water, etc. I was fine without internet and used the offices at my town to catch up on email and do zoom yoga and nutrition appointments. They were genuinely nice in giving me the space and I was sure it was only for a few days.
By the beginning of the second week frustration set in. I called Optimum many times and got no where with support and service. First, they refused to send anyone out insisting it was because of electricity outages around, even though we had no electric problems. Later, they sent out several people who were the wrong people and could not fix outside problems. I was on hold waiting to speak to a support person for at least an hour every time and most were from another country and far away from the problem. I felt anger creeping in and a sense of hopelessness and loss of control.
Finally, I surrendered to the situation and gave up worrying about it and was resigned that it would be fixed when it was the right time. It was helpful that a good friend offered a spare room in her house for me to do all of my appointments so although it was inconvenient to run over there so much, I had a plan that was working.
It felt good to relax about it and I realized that there were many others in the same situation, so I had empathy for them instead of worrying about my own situation. I also learned that a lot of my fear -based behavior was from conditioning that I had to get all my work done and not let down any of my clients by canceling appointments.
I came to realize that losing internet and cable was worth the sacrifice so that the town and state senator could escalate the problem and that hopefully if we get a similar storm or worse there will be a better solution.
The bottom line is we are all so dependent on technology these days that if it goes down, we are in trouble. I am hoping the experience will help the cable and utility companies to have a better emergency plan and that our local officials will take them to task with fines or whatever would help to fix the problem.
For me, the bottom line is to be prepared, let go of what I cannot control and remain calm and at peace regardless of the storm. I am hoping we have all built resiliency from this experience that well help us to navigate future storms and other emergencies, as well as the rest of the this Covid experience.
I would love to hear what you have learned from the storm if it effected you and from Covid. My heart goes out to everyone in Louisiana and Tesas that have it much worse with Hurricane Laura.
https://nutritionyogahealing.com/wp-content/uploads/2020/08/storm1.jpg
360
480
Renee Simon
/wp-content/themes/renee-simon/images/logo.png
Renee Simon
2020-08-27 17:23:03
2020-08-27 18:58:41
What I learned from tropical storm Isaias